Lakeside Camper Conversions is a specialist well-established importer of Mazda Bongo, Toyota Alphard and Nissan Elgrand campervans with family business values. We have expertise in conversions and interior fittings of Mazda Bongos and Mazda Bongo Friendee campervans. With aftersales and support that are second to none, you can rest assured that when you visit Lakeside Camper Conversions you are given a friendly welcome, specialist advice, conversions to suit your needs and quality without compromise.
Lakeside Camper Conversions are absolutely open that these vehicles are imports, However, unlike main dealers, it is our policy to keep all key service and support components in UK stock for same day availability. We have specialised in this model since 1997, and will support your motorhome/camper van through all its owners with full spares, workshop facilities and technical data supply. E.U wide 48-hour delivery from a headlight to a diesel filter.
Please ask us about specialist business and disabled user tax schemes and we'll help you.
Our Workshop
Lakeside Camper Conversions offer a full workshop service facility covering electrical, mechanical and joinery. Our own joinery department manufacture to the highest standards using the latest equipment. We manufacture the award winning Designaway®™ interiors under exclusive U.K. licence.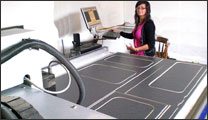 We can also offer bespoke interiors on any motorcaravan or race van. We manufacture exclusively in the United Kingdom giving full control over the production process ensuring the highest quality finish.
Lakeside Camper Conversions only use top quality materials and components, and this is reinforced by our CNC fully automated computer cutting facility, ensuring your joinery is accurate to 0.25mm on every profile no matter how complicated or intricate, every line laser straight.
Visiting
We have every variation of the exclusive Montague™ range on display for viewing and a wide selection of converted Mazda,Toyota and Nissan Montague™ available on our forecourt, ready to drive away. On your visit to Lakeside Camper Conversions you can take a look at the Montague™ range and Mazda Bongos,Toyota Alphard and Nissan Elgrand for sale, discuss specific requirements and bespoke custom conversions. We also carry a huge array of accessories, available from stock. These include cycle racks, roll-out awnings, roof bars and additional storage.
Our Montague™ demonstrator is always available, so you can take a 'test drive' at any time, no prior appointment or form filling is necessary. Please contact us if you have any specific queries or wish to view a particular model.