Montague Campervan Solution
Are you attracted by the flexibility to take off for impromptu weekends away, fishing trips or long days out? You may have been put off buying a campervan in the past due to the high price tag of some makes and conversions. Especially when you may only use it a few weeks of the year. Well, there is an alternative and we'd like to share it with you! It's the Montague campervan  –  affordable, quality interior conversions with personalised options.
Montague™ is a branded product with a proven track record, recognised by insurance companies, the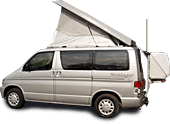 motorhome/campervan industry and an extensive and established client base. All built upon a platform manufactured by the Mazda Motor Corporation in one of the most advanced production plants in the world. Yes, the same Mazda that brought us the MX5 and the tediously reliable 323. That Mazda coupled with Lakeside Camper Conversions Montague™ – a winning combination! Plus with our bespoke finishing service our team can turn your SGL5/SGL 3 as much 'yours' as you desire.
 Why a Montague™ Motorhome / Campervan?
Our Montague campervans have very low body roll characteristics and excellent damping so you get a drive that is exceedingly sure-footed without ever jarring or pitching.
We have taken our own Montague™ Mazda SGL5 on extensive long distance trips, they are so effortless to drive. Just make sure you watch your speed even when towing. The performance really is amazing, acceleration, cruising and top end never leave you wanting more.
At only 6'10" high it will go anywhere on a normal MPV tariff. Saving more than a few pounds on channel crossings. At just 5'9″ wide it really is everyday drivable.
All round twin vented disc brakes make even the most demanding mountain sections safe even when towing (towkits available).
Creature comforts are fitted as standard that others market as 'extras'.
Tailor your Montague™ conversion to meet your personal requirements. We pride ourselves in being able to deliver bespoke products in a very short timeframe (10 – 14 days).
Precision, build quality and attention to detail. Lakeside Camper Conversions Montague™ products have always been award winning. Lakeside Camper Conversions are the leaders when it comes to innovative ideas with mid-sized camper designs and layouts. With your enjoyment of our motorhomes/campervans being the ultimate goal, we blend usability with pleasing aesthetics.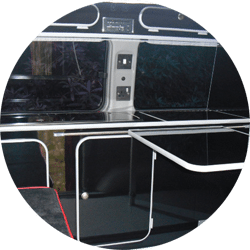 New Conversion Options
Side Kitchen Lakeside Camper Conversions only uses top quality materials and components and this is reinforced by our CNC fully automated computer cutting facility, ensuring your joinery is accurate to 0.25mm on every profile no matter how complicated or intricate is identical, every line laser straight. Always ahead of the game with innovation and design, Lakeside Camper Conversions are pleased to introduce a cutting edge addition to the Montague™ family of motorhome/campervan conversions with our award winning Montague™ side kitchen conversion. These revolutionary layouts offer customers flexibility of choice whilst retaining the overall practicality, comfort and Montague™ luxury. You can choose either 4 or 6 factory belted seats, have choices of either our standard fitment 'front loading marine quality fridge' or a 'top loading fridge', choice of table and cupboard fittings, and various other options. Visit us and see for yourself.
Standard Equipment Montague™ Campervan/Motorhome
Montague™ Campervan/Motorhome Standard Luxury Equipment Package
It's A Lifestyle Choice
Your Montague™ motorhome/campervan will open up new possibilities for leisure, family time and enhance your lifestyle. With the Montague™ lower berth at 6'0″ by 4'0″ and the upper, a billiard board flat 6'6″ by 4'0″ we recommend four adults maximum, or a family of five. With the awning fitted you will have all the room you need. Our towkits are designed specifically for the Montagues™ and open up additional options, as do rear bike/ski racks and storage boxes. The Montague™ designs offer you full flexibility to buy a vehicle that suits your actual needs. Our customers range from mountain bike racers, professional artists, authors, photographers, surfers, canoeists, hikers, adventurers, singles, young families, couples and older people enjoying retirement. We even had customers tour rural India! For further information regarding any of the interior configurations available, please complete contact us or call our team on 01189 328232 with your requirements and to discuss bespoke conversion options and extras available.